Farore Law
Specialist Lawyers
Discrimination
Misconduct
Whistle-Blowing
Discrimination • Misconduct • Whistle-blowing
From advice to advocacy, a seamless, superior service.
We are a firm of lawyers specialising in complex cases involving discrimination, whistleblowing, and misconduct.
Recognised as leaders in the field of employment law in the Legal 500 and Chambers and Partners for 2023/24.
Farore Law specialises in discrimination, whistle-blowing and misconduct inside the work place, partnerships, LLPs and academic institutions. The firm consists of a boutique, highly specialised, knowledgeable and responsive team, led by Suzanne McKie KC, with unrivalled experience and expertise in our specialist areas.
We advise on contentious and non-contentious matters, and manage all aspects of litigation from inception through to ultimate conclusion, providing in-house advocacy where desirable and so avoiding additional and unnecessary cost to clients.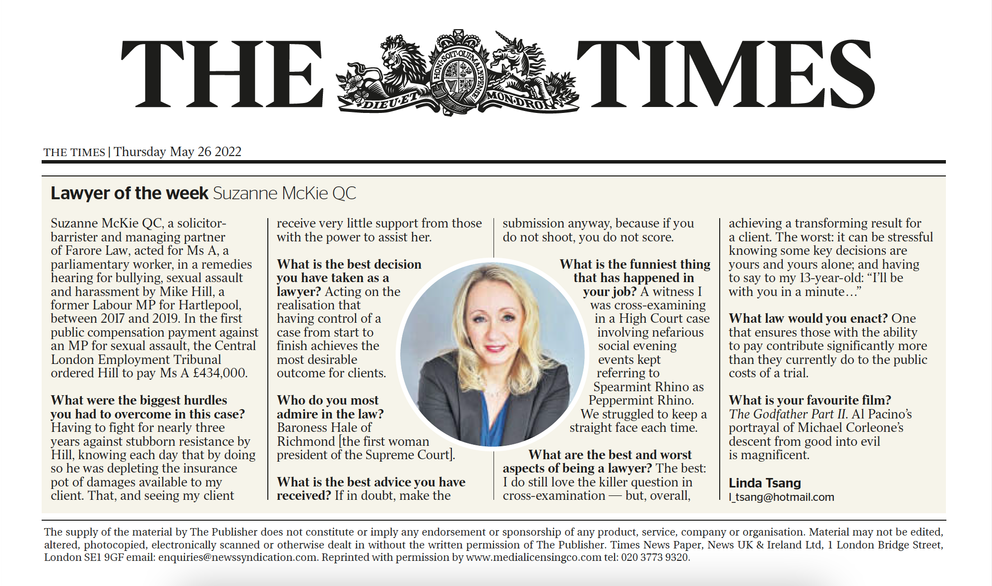 Who we act for:
We advise and represent people whose claims fall within the remit of our specialist areas, both in and out of the workplace. This can include class actions. In select cases, we can act for individual respondents in tribunal cases.

We act for and provide advice to companies across many spheres within our specialist areas of practice. We also have a dedicated package for startups wishing to develop their diversity initiatives. We provide advocacy services for companies in the High Court and Employment Tribunals. We also provide bespoke training on diversity and litigation.

Partnerships & Academic organisations

We advise barristers' chambers, law firms, and academic institutions on appropriate diversity policies, progression issues, retention issues, and how to address gender pay gaps amongst staff, partners, and barristers. We also provide independent investigation services relating to discrimination and harassment on behalf of such organisations.